FRANKFURT BOOK FAIR 2018
THE AFRICAN STAGE
LAGOS - LONDON - FRANKFURT
Frankfurt. Thursday 11th October 2018. A generic European city was basking in summer sunshine in the middle of October. I looked out of the taxi window at the crowds dressed up for summer. I tried to remember the exact English expression for this phenomenon: summer in mid-winter. It took a smooth 30 minutes to alight in front of an impressive modern façade flanked by an imposing row of Frankfurter Buchmesse flags, sky high, in trademark red and white. At ground level, the summer crowd milled around. I wove my way through, sighting two entrances: one stood on an incline, the other sat on a lower level. Both points were guarded by half a dozen uniformed security guards. I went through the entrance on the higher level where the action was and presented my exhibitor ID to a benign looking guard. Which way to International Hall 5.1? I checked my watch and thanked God again that I had taken the 7 am flight from London Heathrow. The first of the three exhibitions-the whole point of my visit to Germany-would soon begin.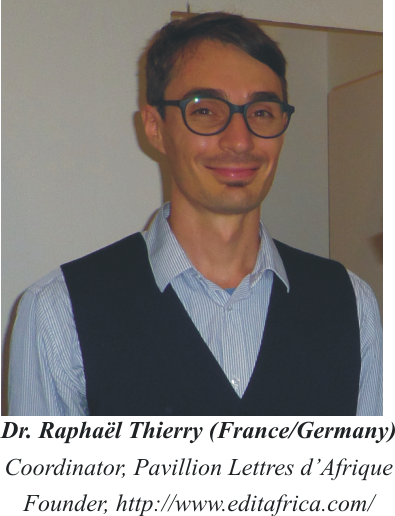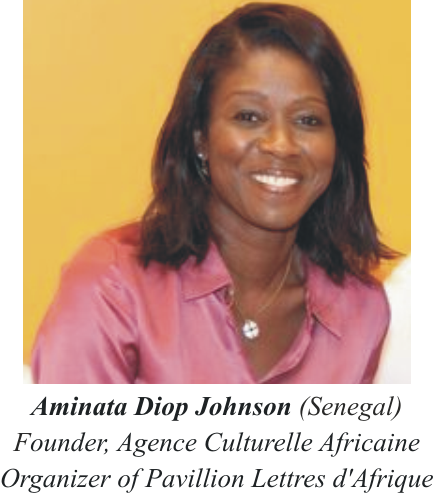 My host was Dr. Raphaël Thierry a faculty member of the University of Mannheim and founder of the blog http://www.editafrica.com/. A French man, young, with energy to burn, he is also a scholar of African publishing. His focus, the interface between the African trade and the global book industry. Aminata Diop Johnson, founder of Agence Culturelle Africaine, organizer of Lettres d'Afrique had commissioned him to coordinate the Pavillion which was the venue of the discussions in which I had been scheduled to participate. It was also the place where all Africa action at the FBF would take place with the exception of a few discussions organized by the Frankfurt Book Fair itself and not by the exhibitor ACA with its sponsors and partners. Renowned Zimbabwean author and film maker, Tsitsi Dangarembga, has been chosen by Interkontinental, booksellers and festival organizers, to curate the 'Transitioning from Migration' edition of the African Book Festival scheduled to hold in Berlin, 4th – 7th April 2019.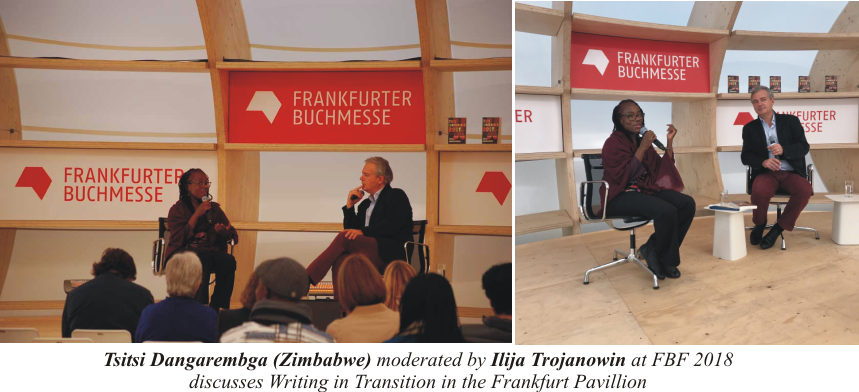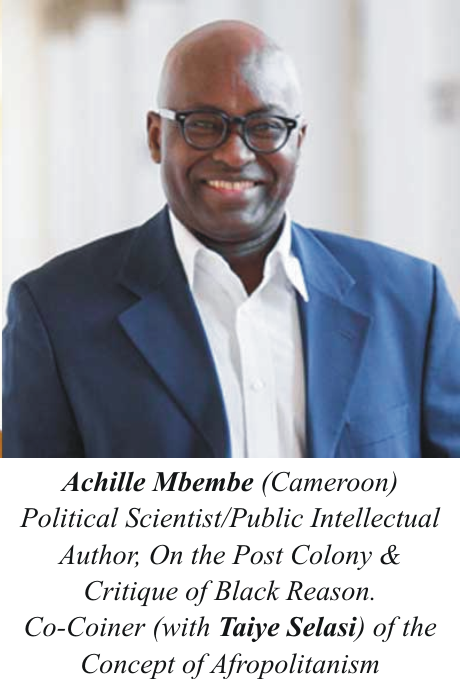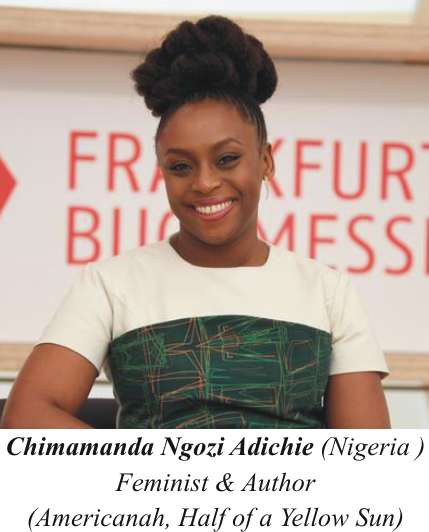 Dangaremgba was slated to discuss Writing in Transition on Friday 12th October 2018 in the Frankfurt Pavillion, a stunning, ultra-modern structure located in the exhibition grounds, the Agora. Another conversation, Portuguese: Universal Language or an annoying remnant from Colonialism would take place in the far reaches of Hall 4.1, in the Weltempfang, the book fair's vibrant centre for politics where talks with international authors, intellectuals and translators are staged. The Weltempfang was slated to host iconic scholar from Cameroon, Achille Mbembe, whom alongside Nigerian literary behemoth, Chimamanda Ngozi Adichie, was elected into the American Academy of Arts and Sciences in 2017. A Past that doesn't pass – Decolonisation in Africa and Europe. The title of the discussion was compelling – I didn't want to miss it.

JUSTIFICATION FOR A STRONG AFRICAN & INTERNATIONAL PRESENCE
The rising tide of nationalism and anti-migrant sentiment sweeping across the global North has become fierce and politicized. Because it is making daily headlines, let me preface this section justifying internationalism with a statement made not by a practitioner of the book industry but by a member of its sibling – the film industry. Nigerian Ugoma Adegoke, founder of the Lagos Film Festival, announced in a press release that identity would be the theme for 2018 Lights, Camera Africa!!! She outlined her festival's thesis:
"…that self-knowledge – of history, of culture – situates, locates and informs communities, countries and civilizations…She stated that the festival would focus 'on growing trends which threaten the ideal of the modern state today. Fragmenting communities (this in my understanding includes global communities) and putting up walls…"
Adegoke's perspectives are mirrored in the views of Chimamanda Ngozi Adichie quoted in Publisher's Weekly FBF report of October 15th 2018. At the Fair's opening press conference, the Nigerian Adichie spoke of the need for more diverse voices in literature, and for more "boldness" in storytelling in these uncertain political times. "Art can illuminate politics," she told a standing room only audience of journalists in the new Frankfurt Pavillion. "It is important to have a wide diversity of voices not because we want to be politically correct, but because, we want to be accurate. We cannot understand the world if we continue to pretend that a small fraction of the world is representative of the whole world".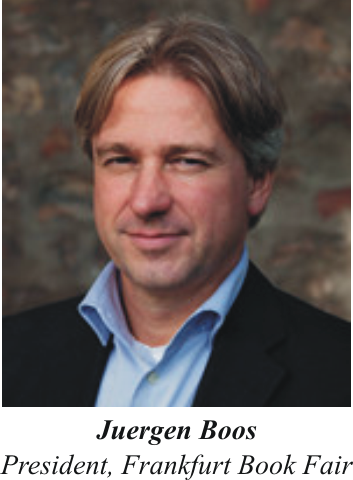 Adichie's views are reflected in the speech made by Emmanuel Macron, President of France, Guest of Honour of the Frankfurt Book Fair in 2017. President Macron told fairgoers at the 2017 opening ceremony that books and literature are vital – even when the ideas expressed make us uncomfortable. In his words: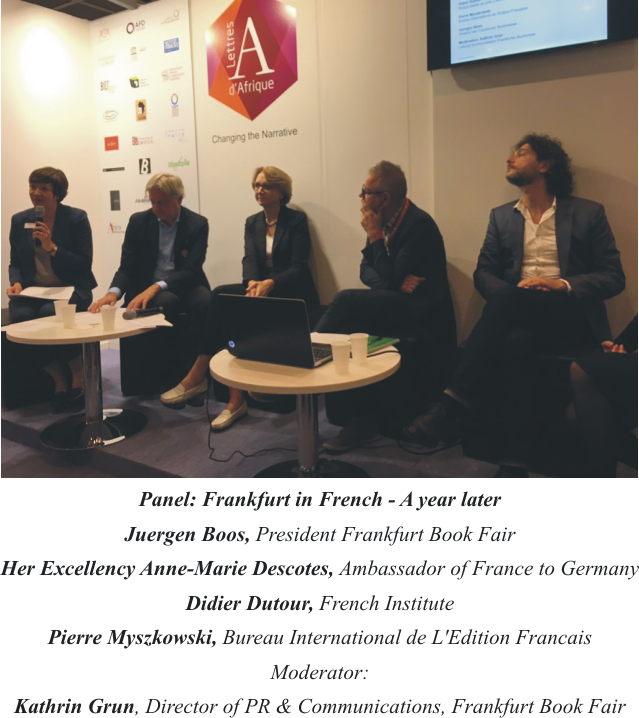 "This is what holds us together (books and literature) – what prevents us from closing ourselves off, from giving way to fear, brutality and disunity".
Crossing Borders, another Publishers Weekly article, focusing on the 2018 book fair, quotes Juergen Boos. The President of the Frankfurt Book Fair added the economic dimension to the case for internationalism affirming the strong growth of emerging markets in Latin America, Asia and Africa and emphasizing the whole-hearted support of the FBF for these trends. This is what he said:
"At Frankfurt, over the past 10 years, we went from 60% German exhibitors, 40% international to the other way around, We now have more international exhibitors than we do German-language exhibitors-it's like 65% to 35%." And along with that international business comes an equally important opportunity: to showcase more talent, stories, and cultures from around the world-something fair organizers are always working to encourage". He added that "It is very important to listen to other voices, and I think we must invest as an industry to make these voices accessible."
Juergen Boos underscored his commitment to the integration of African publishing into the global industry by means of a visit to the Pavillon at 3.50pm, Saturday 13th October 2018. He was accompanied by Her Excellency, Anne-Marie Descotes, Ambassador of France to Germany; Didier Dutour, Director of the French Institute in Germany and Pierre Myszkowski, Bureau International de L'Edition Francais. Boos' objective was to re-visit the experience of France as FBF 2017 Guest of Honour by means of a discussion in the Africa Pavillon. It was symbolic. Boos hoped to evoke memories of 1980 when Africa had enjoyed the same status. The meeting entitled 'Frankfurt in French – One Year Later', was a symbol of Boos' recognition of Africa as a potentially strong player in the global publishing arena.

HISTORY: AFRICA - A CONTINENT ASSERTS ITS IDENTITY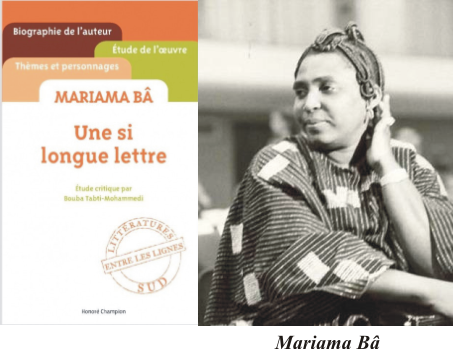 In 1980 the books of no less than 180 publishing houses from countries across Africa were included in a collective exhibit at the fair in an initiative undertaken by Frankfurt Book Fair Director, Peter Weidhass and his colleagues, notably Rosemarie Rauter (the compiler of the catalogue) and the Kenyan, Said Mzee consultant of East African Publishing House, Nairobi. The books have been listed in an accompanying 425pp. catalogue of the exhibit entitled Africana. An International Exhibition of Books at the 32nd Frankfurt Book Fair. In his preface Peter Weidhaas described it as 'Books about Africa in the Seventies' (i.e. African studies and general books about Africa and its literatures, and its cultures, arts, history, etc.,) and it included the publishing output of publishers from all over the world, including those in Africa. In 1980 – a year after its establishment – the NOMA Award for Publishing in Africa administered by the African Book Publishing Record (ABPR) was presented in a ceremony at the FBF to Senegalese author, Mariama Bâ, for her epistolary novel Une Si Longue Lettre, which quickly became a well-loved francophone classic across the globe. I studied Bâ's novel in my final year at the Department of French, University of Bristol, UK.
A new award, to be inaugurated at FBF this year 2019, harkens back to the NOMA which was discontinued in 2009 by the family of the founder, Shoichi Noma. According to ACA's Press Release, Lettres D'Afrique was conceived to revive hopes raised in 1980 by Africa's status as FBF Guest of Honour: revive hopes raised by the powerful presence of African publishing in the program and by the empowering activities such as the establishment of the NOMA Award by those who believe in the potentials of the book industry on the continent. If the Pavillon was conceived to serve as 'A Bridge from 1980 – 2018', the panel I was asked to moderate, Asserting & Connecting Identities: African Book Fairs and Literary Festivals, was a clear evocation of that time which had as its theme: "Africa: A Continent Asserts Its Identity'.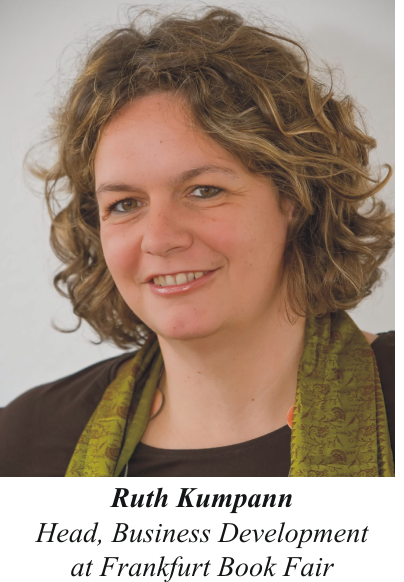 Ruth Kumpann is Head of Business Development at Frankfurt Book Fair. At 4pm, Saturday 13th October, she joined us on the African book fairs panel to present a concisely worded paper about the history of Africa at Frankfurt Book Fair. I recently re-read Kumpmann's presentation, seeing in my mind 1980 and the staggering number of African publishers - each bravely putting his/her best foot forward in booth after booth ranged along the aisles of this most august of fairs.
The Lettres d'Afrique in 2018 boasted progressive goals built on the hopeful foundations established in 1980. Knowing what a pivotal role Hans Zell played in that historic event, it was with something close to nostalgia that prior to writing this review, I scrolled through my inbox in search of Zell's email to me from November 2018, a month after the conclusion of the fair.


AFRICAN PUBLISHING - 21ST CENTURY GOALS
A first at Frankfurt, Lettres d'Afrique was in its third edition on the world stage. Previous iterations were hosted at the Paris Book Fair and at the Brussels Book Fair earlier in 2018. The drivers for the Pavillion's inauguration are captured in the Press Release published by Dakar, based organizer, Agence Culturelle Africaine.
"A label highlighting the plurality of literatures written by African and Carribean Authors."
"A Connective Space …to drive the attention of FBF 2018 to its African neighbors, including international organizations represented on the African stage: International alliance of Independent Publishers, African Books Collective, Afrilivres and African Publishers Network. It is also a spring board towards the many other publishers who are directly or indirectly represented in Frankfurt: African Books Collective represents for example 154 publishing houses; Association Afrilivres 33 publishers from Francophone Africa; International Alliance of Independent Publishers, 32 publishing houses and African Publishers Network (APNET), 44 African countries."
Critically, the 21st century Pavillon was launched with a view to, 'Changing the Narrative' around the African book industry. What does that mean? According to ACA, the challenge before stakeholders was not so much to promote 'African publishing as a central topic or to focus on one single language this time, but rather to defend African publishers' outputs and business in Frankfurt, as well as stressing their contribution to bibliodiversity… Lettres d'Afrique aims to advocate these publishers' legitimacy within the international book market towards a world readership.'
The ACA's explanation might be of little benefit to newcomers to Africa: those whose knowledge of the continent is poor. Those who would like to know more about Africa and publishing at the Frankfurt Book Fair will likely - and far more simply - centre their questions around the kind of narrative that currently exists around African publishing.
I was inspired, but cautiously. If the narrative around publishing on our continent is to really change, specific concerns will need to be addressed and in concrete terms. A modern, concrete narrative to strengthen the publishing eco-system must replace the darkness of ignorance at home and abroad. If this conversation was to be started and sustained in the Pavillon over the 5 day duration of the fair and if a commitment followed to implement what should be clearly articulated recommendations, Africa will begin to see increase in the quality and quantity of her publishing outputs and significantly increased revenue from her books traded locally and across borders.
The topics for discussion looked great on paper, but I had my concerns. Let me flesh out the specifics I hoped the panels would tackle as central [or tangential to the topics] during the 5 day programme at the Lettres d'Afrique:
The international book donation schemes and the way they annually flood Africa's shores with millions of dollars worth of books published overseas. Would we identify features of their deleterious impact on the local book chain? Would we discuss how to collaborate with international charities to evolve ways of converting that kind of aid into more useful interventions? The most obvious: publishing education to strengthen local book industries.
Will panelists propose concrete strategies for transforming local publishers associations and author associations into powerful lobby groups to campaign for increased book acquisition funds for declining public library services? The reason why these overseas book donation schemes exist is precisely because African governments do not support their public libraries.
Will someone serious about asserting Africa's identity express alarm that book donation schemes are not recipient request led and are inadequately monitored and evaluated? In other words: what sort of books are they dumping on us? What do they have to do with us and our realities?
Will anyone address the movement of some African government towards introducing and implementing a book policy of one officially sanctioned textbook per subject and grade. [A recipe for disaster since it would end the current situation of a multiplicity of books from a variety of publishing houses competing in an open market.]
Would we discuss the need to educate book trade practitioners, about the importance of legal deposit and national bibliographies?
Would we address the need for empirical research and data on the African book industries? In this regard, would we recognize the usefulness of Hans Zell's bibliographical and reference resources for closing the knowledge gap? Zell has developed impressive resources: Publishing, Books & Reading in Sub-Saharan Africa (PB &RSSA) and the African Book Publishing Record (ABPR) now in its 45th year.
Would we address the need to organise more fora that bring publishers and authors together with a view to promoting a better understanding of publishing processes and realities?
Would we promote the sale of books across borders, in our discussions? An intra-African book trade –neglected to the detriment of the industry?
How concrete would discussions be about digital as a way forward for publishing given the poor distribution networks and the challenges facing cross-border trade?
How concrete and specific would we get about rights trading both in vehicular and vernacular/ local languages? Given the constraints of time (1 ½ hours) on our panels, how much would presses present learn from these discussions abouts rights trading?
Would we at any stage talk in concrete terms about how to increase the visibility of the African book trade and its outputs at home and overseas?
Would I or anyone else get what to me is the important chance to define afropolitanism and perhaps propose it as the new way of looking as we assert ourselves as global citizens in a 21st century world?

From Day 1, October 10th through October 14th 2018, what diverse audiences and participants would behold was a seamless flow of panels in English in French or in both. Frameworks of modern ideas developed by Dr. Thierry to challenge and change the narrative surrounding the neglected African book trade. The Pavillon was the stage for my interview with Antoinette Tidjani Alou, the Niger based author of the superb collection of short stories, Tina Shot Me Between The Eyes & Other Stories. The collection is published by the pioneering Amalion which describes itself as: "an independent initiative with the mission to publish and disseminate innovative knowledge on Africa to strengthen the understanding of humanity. Our aim is to promote a broader understanding of Africa and its people by providing a platform for authors to express new, alternative and daring perspectives and views on people, places, events, and issues shaping our world. We engage authors to go beyond existing realities to chart new terrains and domains of knowledge production."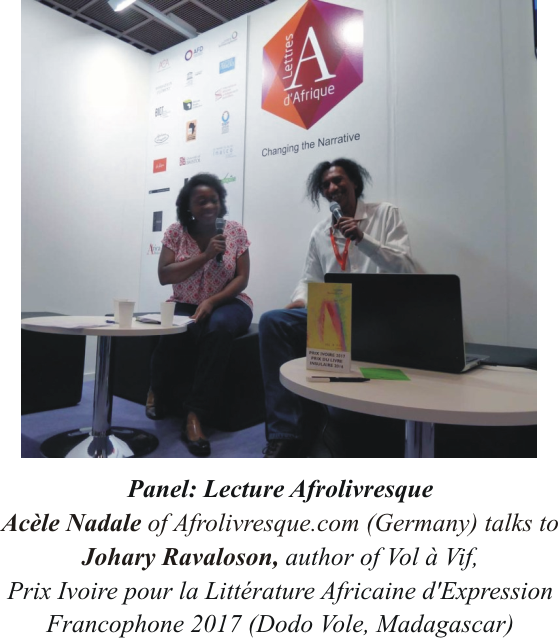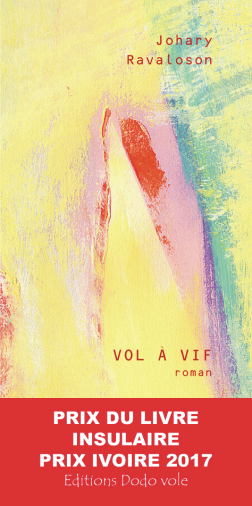 At the end of our interview, I seized the opportunity to raise the idea of afropolitanism coined by rock star public intellectuals, Taiye Selasi (Ghana/Nigeria) and Achille Mbembe (Cameroon). Tidjani's responses to my description of her work as afropolitan provided an inspiring end to our talk. We had the full attention of the audience when I explained that her characters are presented by an authorial gaze readers will not be able to locate in any particular religion, politics, culture, ethnicity or gender.
The Pavillon was the setting of the interview hosted by Berlin based Acèle Nadale of Afrolivresque.com at 5.15pm, Friday 12th October 2018. She spoke to Johary Ravaloson, author of Vol - Vif, a curious novel about cattle thieves which won the 2017 Prix Ivoire pour la Littérature d'Expression Francophone and the 2016 Prix du Livre Insulaire. Ravaloson, a tall, Malagasy with striking looks, is also publisher at Dodo Vole (Madagascar).

INDABAS & AFRICA'S FRANKFURT – ZIMBABWE INTERNATIONAL BOOK FAIR (ZIBF)
Lettres d'Afrique additionally served as forum for indabas hosted by coordinator, Raphaël Thierry, throughout the 5 day program. Of the 24 publishers featuring on the African stage at FBF 2018, one to three publishers at a time were given the opportunity to present and critique their current catalogues before other professionals.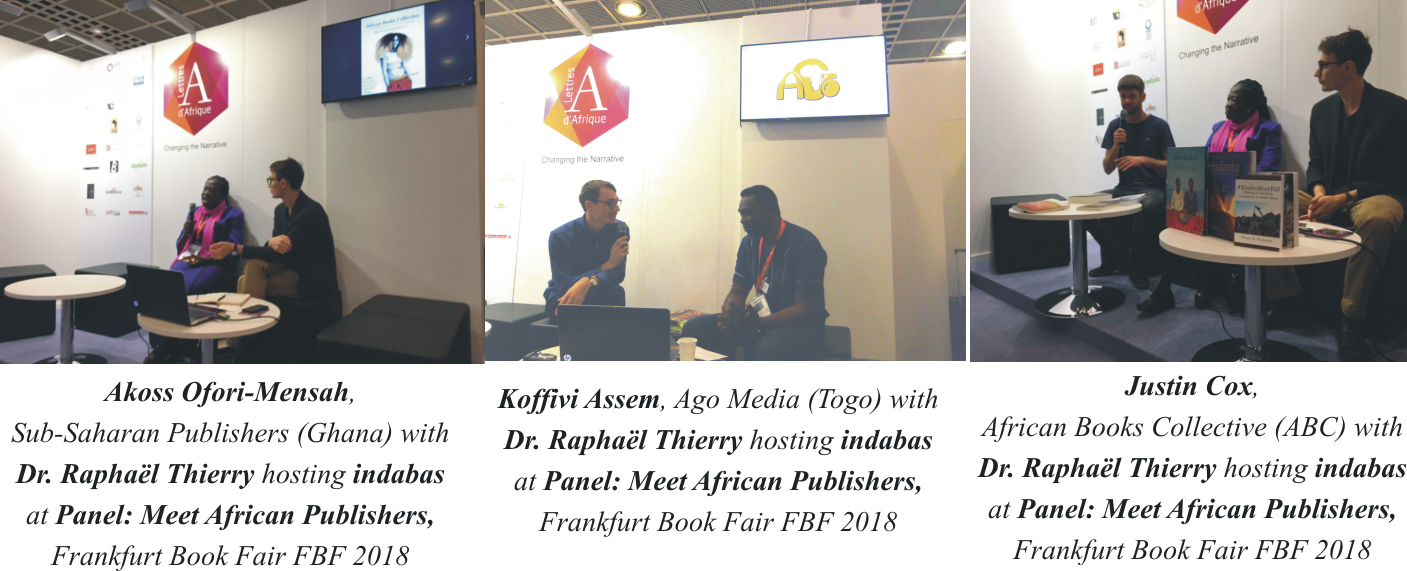 What Thierry sought to do with the indaba meetings at FBF 2018 was to evoke the indabas of the glory days of the Zimbabwe International Book Fair which had at one time been envisioned as Africa's answer to Frankfurt.
ZIBF was established in 1983 by David Martin, Director of Zimbabwe Publishing House and a team of African publishers and other stakeholders, notably Nathan Shamuyarira (Zimbabwe), Minister of Broadcasting and Culture. The fair enjoyed tremendous local and international success and went on, in 1997 to win the prestigious cultural award from the Netherlands, the Prince Claus Award. But since that time, ZIBF has found it increasingly difficult to survive for a variety of factors including lack of finance, loss of morale and direction.

DISTINGUISHED PANELISTS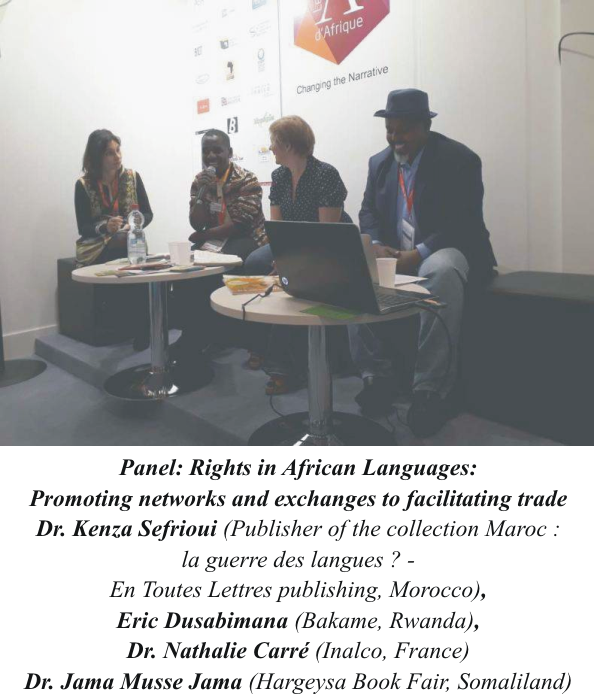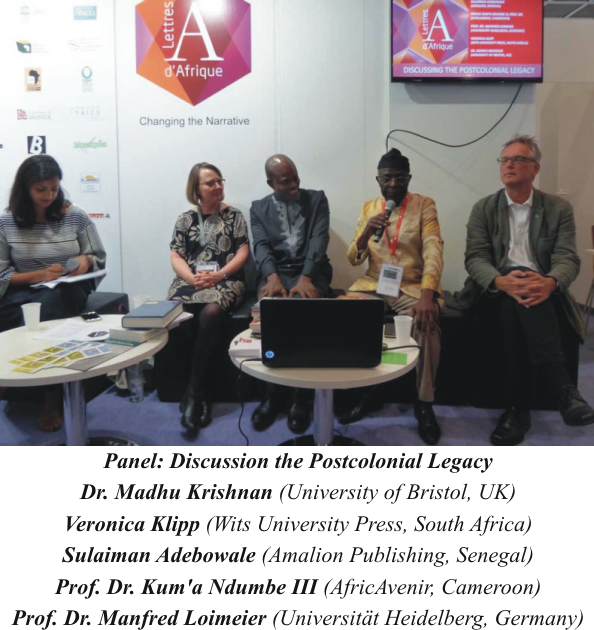 Inaugural participants were recognized africanists and book trade practitioners whose organizational logos branded this African space. They came from Europe (notably France, Britain and Germany), from the Caribbean, notably Haiti, from New Zealand, from USA, Canada, and from 19 African countries including Ghana, South Africa, Somaliland, Morocco, Mauritius and Nigeria. From October 10th – October 14th, fairgoers witnessed these distinguished men and women of all hues pouring into the intimate space of Booth B125, International Hall.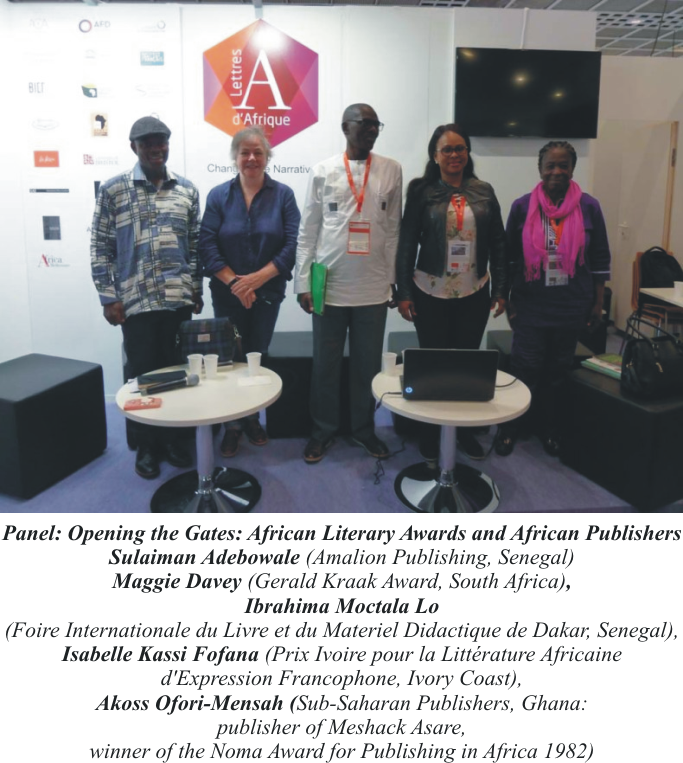 To mention just a few of the luminaries: Dr. Madhu Krishnan of the Department of English, University of Bristol; Manfred Metzner of Das Wunderhorn; Pierre Astier of Astier-Pecher Literary & Film Agency; Porter Anderson of Publishing Perspectives; Dr. Jama Musse Jama of Hargeysa International Book Fair; Elliot Agyare of Ghana International Book Fair & the Commonwealth Publishers Association; Justin Cox of African Books Collective; Ernest Oppong of African Publishers Network (APNET); Akoss Ofori-Mensah of Sub-Saharan Publishers; Corinne Fleury of Foire du Livre de Jeunesse de L'Ile Mauritius; Dr. Kenza Sefrioui of En Toutes Lettres; Sulaiman Adebowale of Amalion Publishing; Ruth Kumpmann of Frankfurt Book Fair; Dr. Ibrahima Moctala Lo of Foire Internationale du Livre et du Materiel Didactique de Dakar; Veronica Klipp of Wits University Press ; Dr. Manfred Loimeier of Heidelberg University; Colleen Higgs of Modjaji Books; Mirline Pierre of Legs Editions; Anne Migner-Laurin of Les Editions du Remue-Menage; Isabelle Kassi Fofana of Prix Ivoire pour la Litterature Africaine d'Expression Francophone; Maggie Davey of the Gerald Kraak Award; Stephanie Kitchen of International African Institute, UK; Nick Mulgrew of Uhlanga Press, SA; Eric Dusabimana of Bakame, Rwanda; Dr. Nathalie Carre of Inalco, France; Koffivi Assem of Ago Media, Togo.

Panel after panel of men and women who believe that Africa has a right to a global citizenship that is more than tokenism; that the continent has a right to play a strong, viable role within the dynamics of the world's biblio-diversity. If, at the panels I attended, speakers did not answer all my (mostly silent) questions, I heard them identify and challenge what to me was a good range of the major issues underpinning the African book industry. As coordinator of this 5 day global think-tank, Dr. Raphaël Thierry accomplished a major feat.
The panels I was not able to attend, combined with the ones I managed to attend, constituted a packed agenda with only brief intervals for interactions between speakers and members of the audience. One conversation I had was memorable. Rosine Zadi is a friendly French woman. She sat next to me in the audience at the discussion entitled 'North-South Linkages, Value Chain and the Rise of Literary Agents in the Literary Field'. Zadi is co-founder with Corentin Emery, of La Kora. Emery, a Frenchman, did a superb job as moderator of the North-South Linkages panel which took place on Friday 12th October 2018.
La Kora is an emerging France based publisher with a focus on Francophone Africa and the circulation of its literature. I was intrigued by the strategies of this young duo for breaking into a tight publishing eco-system. One is to stage transnational writing workshops between North Africa and West Africa. Another is to provide digital services to book industry professionals.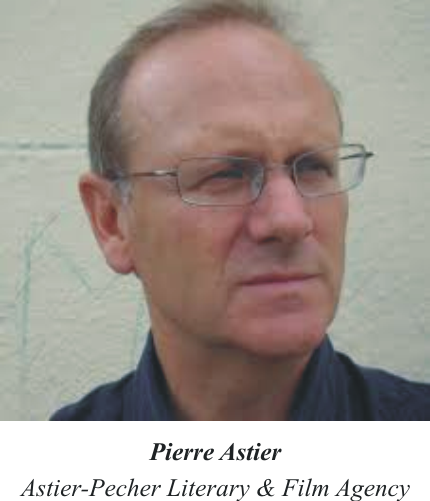 Zadi whose background is in management consultancy at Price Waterhouse, spoke to me about La Kora's preference for the co-production model which ensures that the burden of production, promotion fees and distribution can be shared with the bigger publishers. Co-production mitigates risks when entering new markets and helps to diversify publisher catalogues. Zadi explained this while lamenting that the big firms are often wary of working with young partners she added that trust is based on validation with institutions. From her experience in strategy, social innovation and inclusion in business, She advocated for more South-South collaborations in publishing rather than the virtually exclusive attention paid to Global South-Global North dealing. Profitability, she stated, is key. "We must strengthen the economics of African publishing, because however un-lucrative it is right now, it is still a market."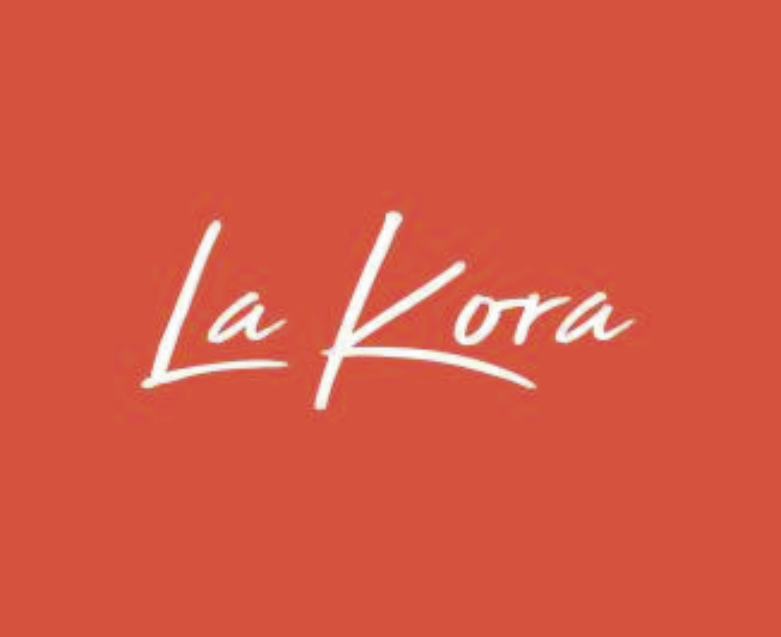 She further argued that African actors need to liaise far more with one another in order to access information about opportunities at all steps of the value chain. Speaking with confidence about rich opportunities in the area of rights transfer: foreign, film and translation, she stated, with a knowing gleam in her eye, that this was no doubt the reason Pierre Astier of the famous Astier-Pecher Agency, had developed a keen interest in Africa publishing.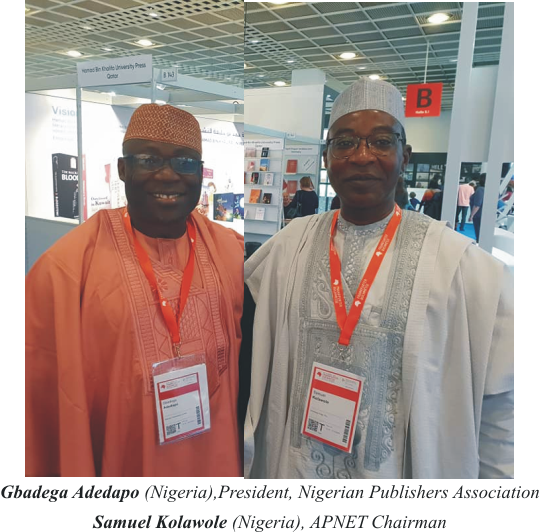 To the left of the African Pavillon was the spacious booth belonging to a francophone collective of publishers (including publishers of the Caribbean and the Indian Ocean: Mauritius and Madagascar). On the right of the Africa Pavillon, African Books Collective founded by a group of African publishers is the world's biggest marketing and distribution agency for Africa published books. ABC has sustained this status by using the Print on Demand, (POD) model effectively. Anyone expecting to find an African at the helm of ABC would have been surprised to find themselves warmly welcomed by Justin Cox, a Kiwi in jeans and tee-shirt, presiding over the stand in relaxed Kiwi style.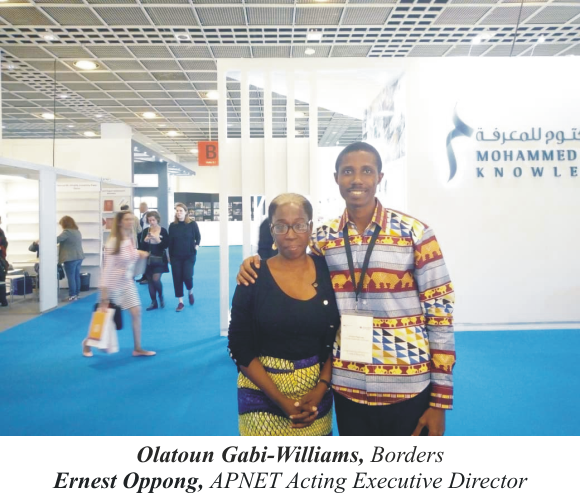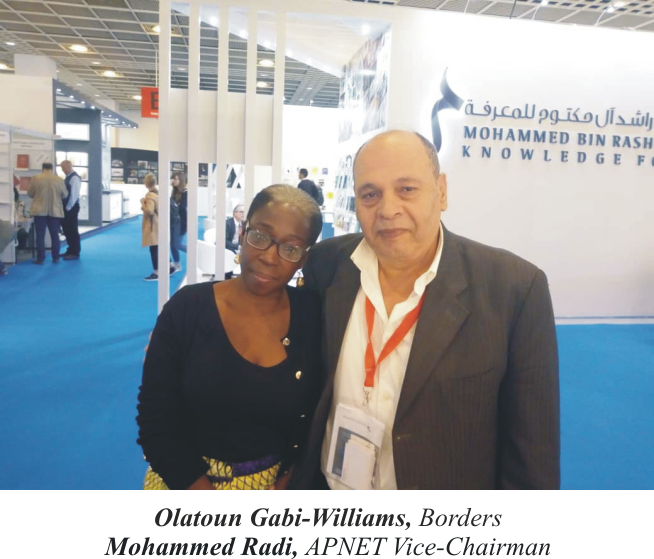 On the opposite side of the B aisle stood the small, proud booth hosted by the newly revived APNET – African Publishers Network which represents 44 African countries. Manning the APNET booth was its young Acting Executive Director, Ernest Oppong from Ghana. Periodically, during the week, Oppong would receive visitors from APNET top brass: APNET Chairman, Nigerian Samuel Kolawole of University Press Plc (formerly Oxford University Press); APNET Vice-Chairman, Egyptian Mohammed Radi and Gbadega Adedapo, President of the Nigerian Publishers Association (NPA).
On Saturday 13th October, in splendid national dress, the APNET officers invited everyone they set eyes on in aisle B to their party. A small crowd of us gathered in front of the APNET booth enjoying plantain chips and chin-chin (West African snacks), over fairly decent wine. With us was Lawrence Schimel - amongst whose plaudits, impressive translations of La Bastarda by Trifonia Obona (Equatorial Guinea), New Daughters of Africa edited by Margaret Busby. Justin Cox of ABC joined us, in his professional element, networking with the African publishers.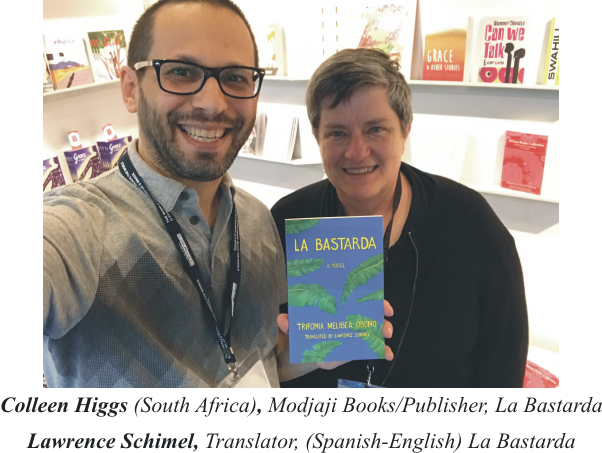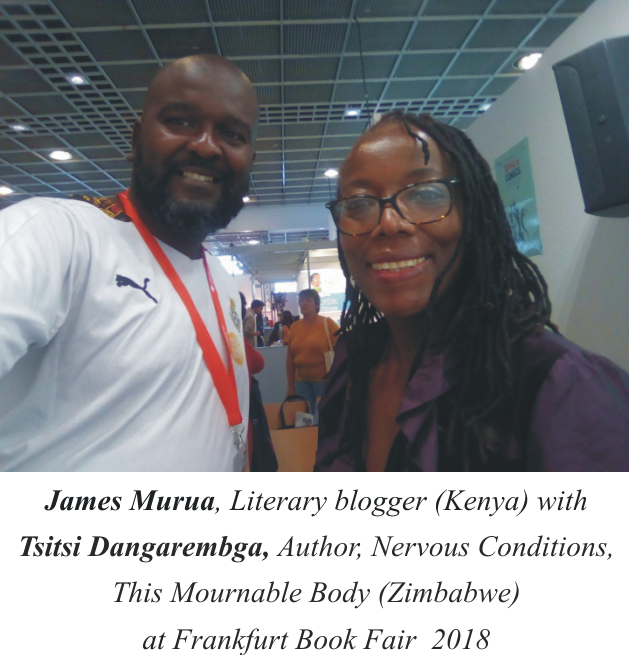 Kenyan James Murua was unusually absent from the party crowd. An ebullient man and respected literary blogger, Murua was sponsored by the Goëthe Institute in Nairobi to report on the Frankfurt Book Fair. He has written generous reviews of several of the panels including the one I moderated, 'Asserting & Connecting Identities: African Book Fairs & Literary Festivals'.

http://www.jamesmurua.com/frankfurt-book-fair-2018-african-book-fairs-and-literary-festivals-fbf18/;
http://www.jamesmurua.com/frankfurt-book-fair-2018-sights-from-the-african-contingent-fbf18/;
http://www.jamesmurua.com/frankfurt-book-fair-2018-opening-day-chimamanda-ngozi-adichie-fbf18/;
http://www.jamesmurua.com/frankfurt-book-fair-2018-rights-in-african-languages-fbf18/;
http://www.jamesmurua.com/frankfurt-book-fair-2018-tsitsi-dangarembga-fbf18/
Another force at the fair also missing from the fête was Dr. Jama Musse Jama of Somaliland. World-renowned organiser of the Hargeysa International Book Fair, Jama is a sociable and articulate intellectual. Beyond and over his inspiring presentation during the African book fair panel, during other encounters at the fair. Dr. Jama opened my eyes, to realities of Somaliland and his own non-religious/humanist perspectives.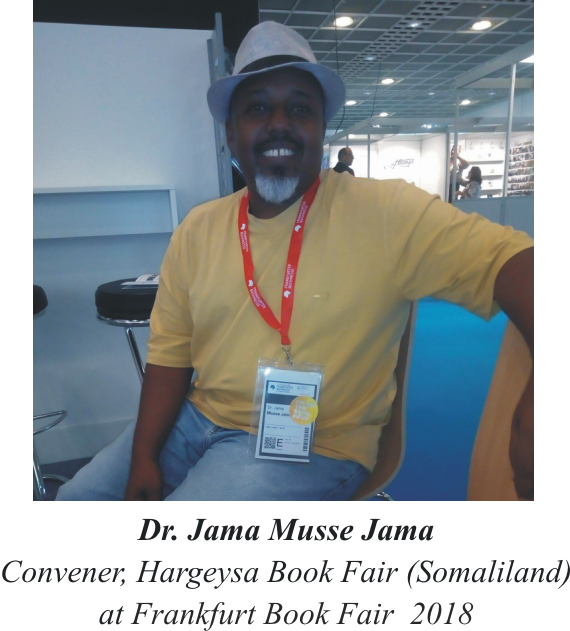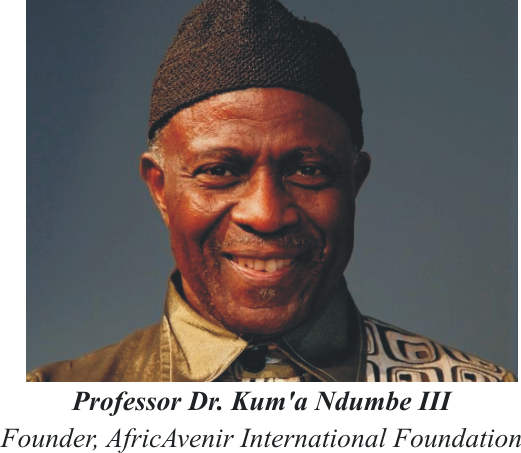 Ranged alongside ABC were smaller booths housing African publishers. One of them belonged to AfricAvenir founded by the highly respected Cameroonian publisher and activist, Professor Dr. Kum'a Ndumbe III, former tutor of the iconic scholar, also from Cameroon, Achille Mbembe slated to speak on Sunday 14th October in the Weltempfang Stage in Hall 4.1. I have already mentioned Mbembe's panel discussion with its compelling title, A Past, that doesn't pass – Decolonisation in Africa and Europe.
I was particularly attracted to AfricAvenir Editions which boasts more than 200 authors from more than 25 nationalities from five continents. The imprint is the possessor of 20 original languages in publication: African languages (Duala, Ewondo, Pidgin, Bakoko, Basaa, Kikongo, Shupamem, Fe'fe'e, etc) and European languages (French, English, German) It is a unique publishing house promoting what according to its brochure is 'an African Renaissance and the common destiny of humanity through literary and scientific works.'
HALL 4.1
On Friday 12th October, at around 10 am, I headed to Hall 4.1, home of the Weltempfang. What a contrast with the International Hall. Where an unpopulated, unhurried atmosphere reigned over proceedings in Hall 5.1, here the traffic of people walking about purposefully, was impressive. This hall is as vast as an airport hanger. If not exactly loud, the tempo was buzzing. People seemed mainly local, visiting an overwhelming array of booths belonging to European publishers.
I made my long way through the buzz to the Weltempfang located at the farthest reach of the hall. Organized by the International Publishers Association (IPA), and chaired by journalist Peter Craven of Deutsche Welle, the talk was already well underway. Staged to advance the FBF human rights campaign, I'M ON THE SAME PAGE, Accidental Campaigners and International Diplomacy was efficiently delivered in English and Arabic thanks to the excellent services of the young female translator. The salon featured Ensaf Haidar, wife of imprisoned Saudi blogger Raif Badawi, IPA Prix Voltaire Winner and Kristenn Einarsson, Chair of the Freedom to Publish Committee of the IPA, with whom I have had the privilege to talk on Borders.
But on my first day, after barely three hours in Frankfurt, nothing could have been further from my mind than a visit to Hall 4.1. My destination was Hall 5.1, the Lettres d'Afrique. I arrived at about 3.30 pm - just enough time to collect myself, take my seat and begin to chair what turned out to be a fascinating - even moving - and despite the quietness of the hall, well-attended session entitled: African Book Fairs & Literary Festivals: Asserting & Connecting Identities.
HALL 5.1
On my last day at the fair, my Iranian taxi driver compared the impact of the Frankfurt Book Fair on the taxi trade with that of the Automobile Fair which had taken place earlier in the year. As with the FBF which was taking place now, there had been no spike in the taxi business from that big automobile event. It had grown increasingly like that over the years. What was it like for you guys at the book fair? 'Quiet, I told him. 'Pretty quiet'

Also on my last day, but this time on the fair's grounds, I struck up conversation with German publisher, Tim Mücke (Schiler) who helped me find the way out. Mücke agreed with my taxi driver: the fair was getting smaller every year. When I asked why, he explained that exhibitors were finding it too expensive to exhibit and that much of what was viewed at the fair could be viewed online. Notwithstanding, "It's still the biggest book fair in the world" he said, 'I come every year.'
It is telling that a Publisher's Weekly article 'Stability Reigns a Frankfurt' (15th October 2018), quoted five publishers whose feed-back about the 2018 FBF included expressions such as, 'a sense of calm', 'mellow', 'the fair in general seems a bit quieter', 'less people around…less frantic'. According to the PW piece, Joanna Ingalls of Akashic Books found the pace, 'somehow more welcoming'. The pace suited me as well.
Too late to include in the print version, an Editor's Note has been added at the end of the online Publishers Weekly article "Stability Reigns at Frankfurt": Frankfurt Book Fair organizers report trade attendance as being down 1.8% from 2017 and that a total of 285,024 visitors attended the event, marking a 0.5% decrease from 2017.
HALL 4.1 vs HALL 5.1 THE INTERNATIONAL HALL
Writing this review, the contrast between the action packed Hall 4.1 and Hall 5.1 remains striking.

I had no complaints about the location of the African stage – the quietness was reassuring - and I heard no complaints from other African exhibitors. But one would wish for a different location for the African Stage, one with greater access to the kinds of demographic groups that visited Hall 4.1. Antoinette Tidjani Alou, whom I hosted at my author interview attracted many people to our small Hall 5.1 booth. A flamboyant woman and fascinating talker, this lecturer from the University of Niamey in Niger, I know would have attracted a very large audience in a venue like Hall 4.1. Subsequent to the interview, her short story collection which sold very well in the International Hall, in a more populous space, would have been able to sell a great deal more. And perhaps - counter-intuitively - there would have been greater opportunities for the trading of rights in African books if these African books had been exhibited in a hall populated by European publishers looking for themes far more relatable than they might have been led to expect, but set in exotic locations.

FRANKFURT BOOK FAIR REGRETS? NOT MANY
In order of priority:
Due to Agence Culturelle Africaine's lack of funds, for the English/French sessions, we did not have the services of the translator we had expected. Thankfully, moderators were able to forge through sessions providing audiences and non-French speaking panelists with do-it-yourself translations. It wasn't easy.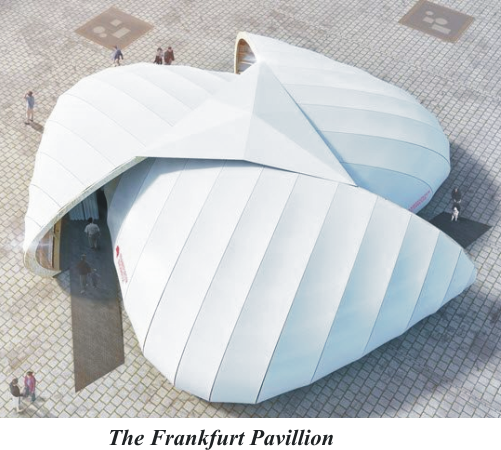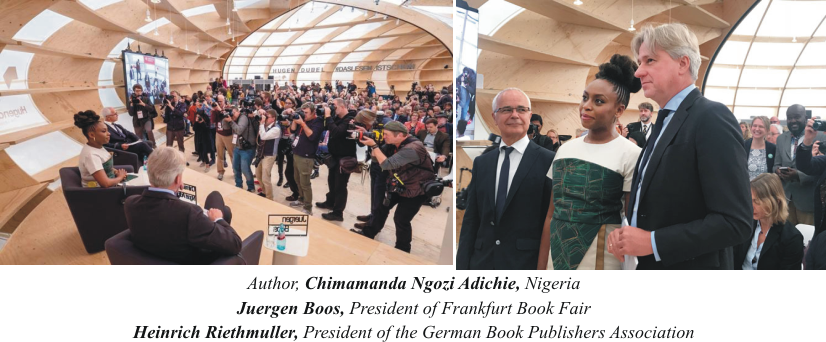 Missing the Frankfurt Pavillion, that stunning piece of modern architecture. Located outdoors in the Agora, the Frankfurt Pavillion hosted the opening Press Conference of FBF 2018 held Tuesday 9th October 2018. Celebrated author, Nigerian Chimamanda Ngozi Adichie, was special guest. Flanked by Juergen Boos, FBF President, and Heinrich Riethmuller, President of the German Book Publishers Association, the speech Adichie delivered was widely viewed on social media and praised in African literary circles.
A Past, that doesn't pass – Decolonisation in Africa and Europe. Envisioned as a powerful climax to an Africa rich 2018, the cancellation of the Achille Mbembe Weltempfang talk at the last minute was a real disappointment.
I know very little about Georgia beyond its location at the crossroads of Western Asia and Eastern Europe. And I know nothing about what I have since learned is its rich heritage of stories. Like my trip to the Weltempfang to attend Accidental Campaigners and International Diplomacy, (the talk about the jailed Saudi Raif Badawi and freedom to publish), a visit to the Georgia Guest of Honour Pavillion would have been a refreshing break from my Africa mission. With its focus on the unique Georgian alphabet made up of beautiful, unguessable characters, Georgia's theme 'Made by Characters' intrigued me. I would have enjoyed that show.



RECOMMENDED READING
Visit and Register at